Artists And Their Moods
Artists are creative people. They like to fill their heads with interesting images, ideas, fiction, music and then some. Artists need to create and make things in order to feel like they have meaning to their lives.
Because artists utilize a lot of inner feeling and inspiration from their head and the outside world to create art, their artist minds can work against them. They have THE MOOD THING
"Aww I don't 'feel' like doing this today."
"I don't have the skills to do this"
"It's gonna suck..."
"I wanna do something else today."
This 'mood thing' can be a serious problem if left unchecked. Work doesn't get done, instructions aren't listened to, appointments with people forgotten about, time management all out of whack, logic and reasoning super wonky, overly emotional about being criticized, emotionally unstable etc.
I have an artist mind, I still have this Mood problem, I've seen it in other artists. And seriously, this problem needs to get addressed.
The Right Brain Left Brain Thing
Artists are mostly Right Brained people. Some more so than others. It is possible to find people who are successfully whole brained who can be rational and orderly as well as artistic.
I'd say hardcore cosplayers (the guys who make their costumes from scratch!) are kinda whole brain. They are able to look at a costume, break it apart, make all the bits that come with it (take measurements, fit LEDs, make sure things don't fall apart) and then they wear it, put on makeup, become the character, act IN CHARACTER, perform etc. That's fully utilizing both parts of the brain.
Really Right Brain people think that the Left Brain (and people who are mostly left) are dull, unfeeling, boring, evil, regimented, communist etc. and so they WANT to REBEL against the Left Brain and all that it stands for.
And that's when artists get in trouble.
How I Learned to Stop Worrying and Love the Left Brain
Repeat after me:
THE LEFT BRAIN IS NOT EVIL. HE IS YOUR FRIEND.
The left brain is Mr Organized. To first tap into him.
CLEAN UP YOUR ROOM/ WORKSPACE.
Once you do, he can think straight and help you set your life in order.
If you don't clean up your workspace/ room, your brain is just frazzled and confused. It can't find things, it sees stuff everywhere, it's like there's just static in your head.
And magically once you clean up your area - sweep, dust, vacuum, re-arrange things, it's like you feel ready to work.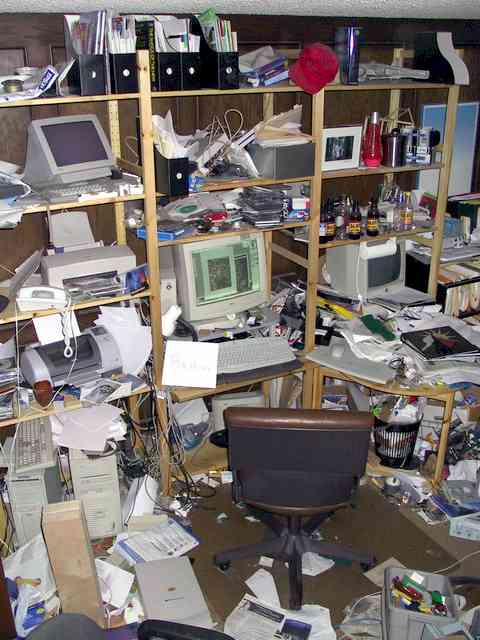 Seriously man, you can't work like this.
So GO CLEAN UP YOUR ROOM / WORKSPACE NOW.
.
.
.
.
.
Have you done it? If you haven't
GO DO IT.
TELL YOUR RIGHT BRAIN TO EFF OFF AND STOP WHINING.
.
.
.
.
---------------------------------------------------------------------------------------------------------------
Set a Goal. Not just 1 Goal. MANY LITTLE GOALS.
Imagine this. Imagine there's a soccer game. WITH NO GOAL POSTS. That's pretty stupid right? If you don't set goals for your project, that's like playing in that soccer game with no goal posts. You're just messing around, kicking the ball about FOR NO APPARENT REASON.
You really can't keep living your life like this
Yes it's true, messing about and discovering things is nice sometimes but you do need to work to a project or something to actually get somewhere.
Oh yeah, sure, I can set a goal. Like saayy there's a convention coming up next month, I'll prepare my cosplay outfit for that day!
The problem with far away goals is the further the goal is, YOUR RIGHT BRAIN WILL MESS WITH YOU.
"Oh it's so far away, I can muck around."
And then you realize too late like you have 1 week and then realize. "Oh crap, don't have my outfit ready in time, next con then.... : ( "
That sucks, you didn't fulfill your mission.
Of course there are times where things don't go according to plan like really important life stuff cropped up which you really didn't expect, then that's an 'oh well.'
But it really does suck if you do an 'oh well' when you had ALL THIS TIME TO PREPARE and you blew it.
So here's what you do.
You make many LITTLE goals.
"Oh nooo I hate goals" whines your Right Brain. Yeah tell him to eff off.
First set a
Master Goal
. Like say, a convention day.
Then you set a
Weekly Goal
- In This Week, I need to finish this piece of my cosplay outfit.
Then you set a
Daily Goal
- Every day, I need to do a little bit of my outfit. Even though I am FREAKIN TIRED or whatever, you HAVE TO WORK ON IT.
Then YOU HAVE TO STICK TO IT.
Think of your project like ICO, you can't leave her alone to fend for herself.
Sticking to your goals is the hardest thing for Right Brained people to do. Right Brain people LOVE to get distracted by ANYTHING. When you find yourself getting distracted. YOU HAVE TO SAY NO.
When you work
Shut yourself in your room
Turn off all distractions - no games, no facebook, no chat messaging, no TV, no music
JUST. WORK.
PLEASE DON'T FORGET TO EAT AND DRINK SOMETHING.
The Reward System
You know how RPGs work? Someone gives you a quest, you go do it, then you get a reward.
You could try implement something similar for yourself when you hit your WEEKLY goals. (Don't do Daily goals cause too many rewards for really tiny things can mess you up)
Like when you find you hit your milestone for the week, you could go do something you really like for a while like go play your favorite video game or go watch some TV shows. But don't over do it of course.
Why Artists Fail Sometimes
I think what messes up artists and creative people (at least speaking from experience) is
The Production Part of Any Project IS THE MOST UNCREATIVE BIT.
Artists love the concept bit, the idea, the thought of doing something creative but their main problem is the actual DOING and MAKING THE IDEA HAPPEN.
This is you before starting your project
THIS WILL BE YOU WORKING ON YOUR PROJECT
And this sometimes puts them off from making awesome things because they have this brilliant idea of what they want, but find that putting in all this effort can be really hard, boring, difficult, not working out etc. And then they give up, produce shoddy work, not make the deadline etc.
THIS IS WHY YOU NEED YOUR LEFT BRAIN.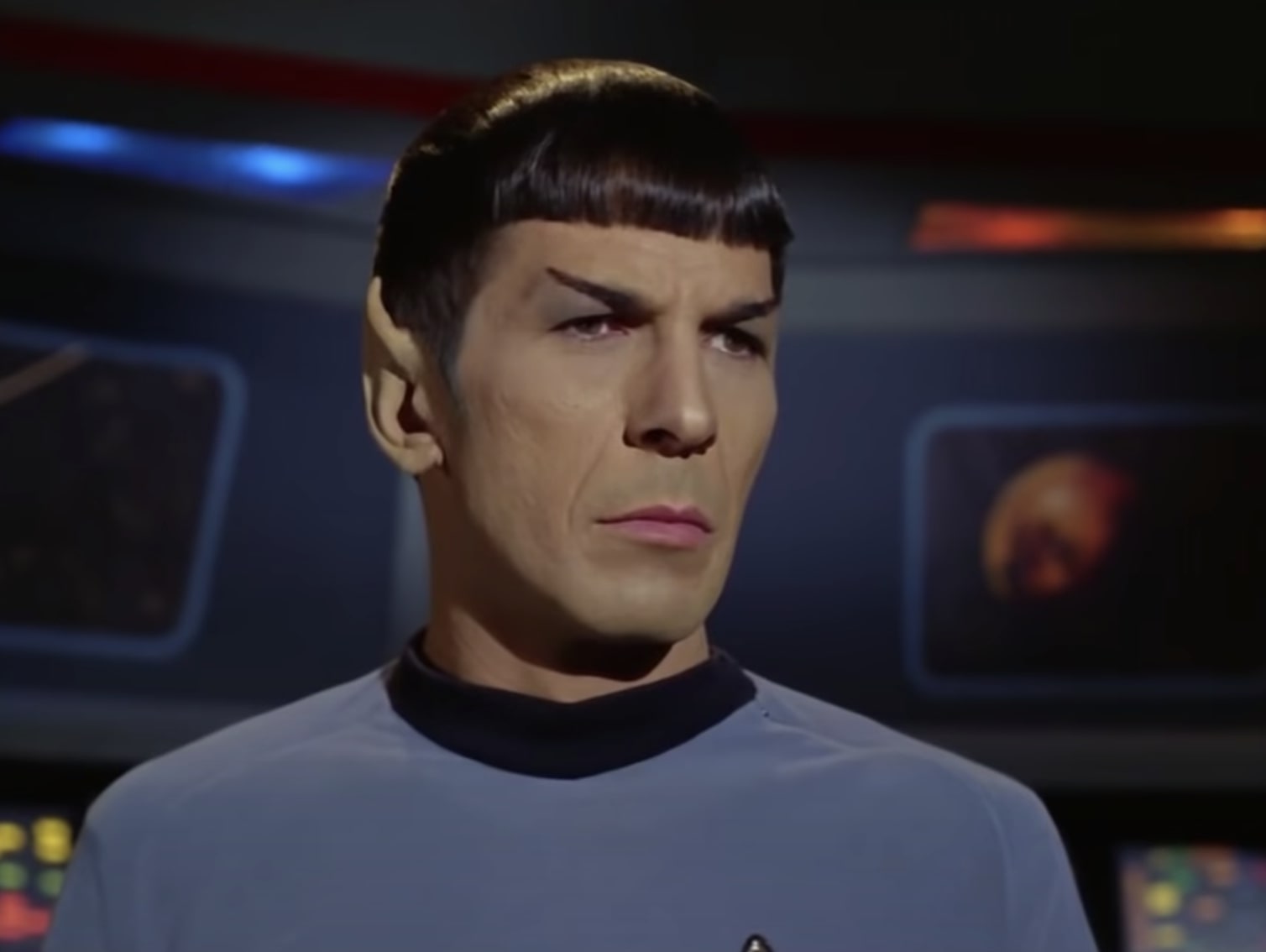 Think of your Left Brain as Mr Spock
Your Left Brain is Mr Discipline. He's also Mr Fix It and Mr Logical. You need him to help you keep going. You NEED HIM TO HELP YOU FIX PROBLEMS WHEN THEY COME UP.
It's easy to just down tools, give up a project and say 'Oh this is too hard, eff this shit.'
That just makes you a loser. You ran away from the problem. You didn't fix it.
COOL PEOPLE FIX PROBLEMS.
Hooray! You reached your Master Goal?! Now what?
Yeaaahh! You finished your outfit! You paraded it around at a con and it was AWESOME! It's easy to put your outfit away, start another project and keep going but you need to do just this ONE THING in order to take your artisan skills to the next level.
THE POST MORTEM
You know how in crime shows like CSI and Law and Order, the forensic guys go investigate how someone erm, was horribly murdered?
Quite similar to your project, you take it apart and analyze what you liked about it and what you didn't like about it and what could be improved.
Then you strife to do better on the stuff that wasn't good.
Also, compare your outfit to someone who was really good. Why did that outfit look awesome? Was their material better? Was there more detail on the outfit more than yours? Maybe she fit the look better?
Note these things down and strife to do better on your next project.
Dealing with Criticism. (Tell that Right Brain to SHUT UP AND BE COOL.)
YOLANDA. BE COOL!
Artists love to make stuff mostly for them, like I said, art is a very personal and emotional journey. When you finish a project, you mostly put it up for the world to see or at least show it to your friends.
THE FIRST THING PEOPLE WILL DO IS JUDGE IT.
They will usually tell you all the things that are wrong with it before all the things they like about it.
If they're only telling you all the nice things about it, it usually means they're just being nice.
Artists usually get all angry and emotional when their work gets 'torn apart' by the public because it's just your Right Brain FREAKING OUT.
"How DARE they hate my work! Do you know HOW LONG I SPENT DOING IT!?"
"They don't UNDERSTAND ME?!"
"I'm not listening, I'm NOT LISTENING."
And that's when artists don't grow at all and don't learn anything.
So tell your Right Brain to CALM THE EFF DOWN AND BE COOL.
People are just trying to help you improve.
Here's what you can do to improve
When you show your work to others, grab a small note pad and ask them.
"Ok, here's my work, what do you think?"
Jot down all the comments that people say on your note pad. Ignore the retarded comments like "SUCKS BAWLLZ" "BLOWS MANZZ" That's not useful criticism.
Then look at your work accordingly. Hmm maybe that finish didn't look right on that weapon, maybe I shouldn't have used that cloth.. or.. yeah.. maybe I just don't fit that character look. I really need to lose weight etc.
And that's how you grow and improve as an artist. This journey doesn't happen overnight, there's no instant pill that you can take to be an awesome artist. It takes time, acceptance and A LOT of effort.
BE PATIENT. BE REALLY PATIENT.
Feng Zhu did not become this awesome overnight. He's a 12 year+ veteran concept designer. 12. YEARS
I think that's pretty much all I can think of. I wish I knew this stuff earlier, it seems easier said then done but it's not impossible. I just somehow woke up and saw this after I cleaned up my room and thought, yeah, I've been doing it wrong for what 20 odd years in my life?
Now that I realize, I'm gonna be smarter and I want YOU to be smarter too.
So learn to love Mr Left Brain, he's not evil, he just wants to help you. Tell Mr Right Brain to SHUT UP sometimes. He's too emo and gets nothing done.